4. Gimme flip phone! Gimme gimme!
April 20, 2022 03:09
Mood: Needy
Listening to: Countless people saying ONE DOWNSIDE OF A FLIP PHONE IS THAT IT TAKES A LONG TIME TO TEXT

I am going to cover several topics in this one. Also hi. How are you? You probably won't tell me. Maybe you will.
Numba one! I did not get the job. I went to an interview a couple of weeks ago, and they told me it would take a few weeks to get back to me. It was pretty soon after that they told me no. So, I still have no job.
Number two, my website. This past week I've done hardly any work on it. The reason why is because I've really disliked how my home page looks, and I wasn't sure how to improve it. So, a few hours ago I put a bunch of decorations and images on it and stuff. I like how it looks a lot better now, but it still isn't great. Oh well. It doesn't have to be perfect.
What I am glad about is that I still haven't lost my interest. It's not that I've forgotten about it or haven't cared. I think about it every day and sometimes people get creative blocks. I still love my website and I'll try to keep going with it as long as I can.
Number three! Sanrio! I've mentioned Sanrio in a couple other diary entries, and I have Sanrio images on my website right now, but gosh I've become very obsessed with it. Especially Kuromi.
Kuromi is soooo cute and she's just precious and I love her!!! >.< Sanrio make sooooo much merchandise for their characters, and Kuromi is a popular one. I've been watching many videos about Sanrio shopping hauls, and I would love to purchase much of the cute stuff!
I think I will purchase Kuromi stickers to put on my things :3
Number four: flip phones. I am now currently obsessed with flip phones. It's sort of amazing to me how deep I've gone into retro technology. I seem to prefer older technology in all aspects.
REASONS WHY FLIP PHONES ARE FUCKING COOL
They aren't featureless metal rectangles
Tactile feedback with buttons instead of pressing on a touch screen
Pleasing beeping noises
You can decorate them like girls in anime
You don't have to press a touch screen against your face to speak on the phone, it fits better around the ear
No Tiktok, Instagram, or Snapchat which are all emoji-infested landfills
Cute little external screen that tells you helpful things
YOU GET TO FUCKING OPEN AND CLOSE IT SO SATISFYING YEEEEEAAAAAA!!!!!!!!!
Unfortunately, some of them allow you to use emojis, which is disgusting and evil.
I've been looking at different phones and my favorite one that I've seen is the Docomo Fujitsu F-06D Girls Nicola phone!!! It looks like this: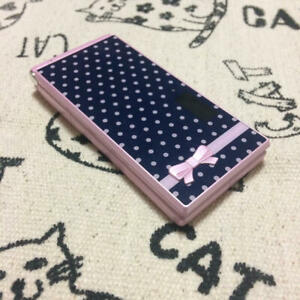 However, this was released in Japan in 2012 so, it's not something I can purchase and use easily T.T (it even replaces normal, filthy fucking emojis with legitimately cute ones that have a lot of personality)
I can't find any cute ones that are available in the United States right now. If you know any, please let me know! I would like to switch off of my iPhone.
I will continue to make adjustments to my website and work on some things. That's all for now! Byeeeeee! ^ . ^
Back